Lessons on Corporate Conflict Management from My 6-year-old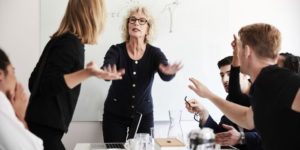 As I was driving my daughter home from school one day, we discussed her most-recent, holiday-inspired work of art. I suggest that we temporarily place it where we had hung her "Blue Dog" painting. She agrees—and then, a few moments later, asks, "Don't you like my Blue Dog?"  
Surprised, as I absolutely love her artwork and frequently tell her so, I say, "Of course I do." 
Then, I go on to explain the limited space we have for hang-able art. "But," she says, "I heard you say you didn't like Blue Dog." And she was right. I had said exactly that a couple weeks prior.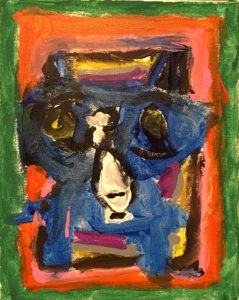 What she didn't know, however, was that I wasn't referring to her artwork, but a restaurant I didn't particularly enjoy. That conversation had happened two weeks earlier—right in front of her—and I never realized that she might think I was talking about her picture instead of a diner. 
For two weeks, my daughter sat with that criticism, while her Blue Dog hung prominently in our home. 
Why does this matter to you? 
This misunderstanding hits at the core of how conflicts often simmer and develop. My young daughter heard me right but understood me wrong.
How could she have known or even anticipated that? How did this impact her for the two weeks she sat on it? How often were her emotional outbursts and challenging behavior (which were worse during that timeframe) directly related to her being unintentionally hurt by me? 
In both our workplace and our personal lives, we are capable of experiencing these misunderstandings, both on the giving and receiving side. We feel certain, convinced even, that the hurt inflicted on us by others was intentional. How could anything else be the case? Yet, the Blue Dog teaches us there's often another narrative. 
Here are the lessons I hope to offer you: 
Be Brave 
When you feel hurt, talk about it with the person that hurt you. Don't wait, don't sit on it, and don't let the pain stew and fester. If a 6-year-old can bring it up, so can you.
Give the Benefit of the Doubt 
It may look, sound, or feel like someone is being unkind, unfair, or intentionally hurtful. But, before you make that snap determination, talk to him or her. There may be more going on than meets the eye. Intentionally believe that others do have your best interests at heart, and approach the miscommunication from that point of view. 
Ask Questions 
Don't look to prove your case or find evidence supporting your belief. Instead, ask questions to find out more information. It's okay to be persistent if you are confused by the initial answers. Had my daughter simply stopped asking questions when I said of course I liked her Blue Dog, she may have thought I was lying or trying to deceive her. 
Be Open to the Conversation 
When you are being asked questions about your intent, or more to the point, being told you've hurt someone, listen to them. Try to understand where your actions have created pain or harm for someone, and offer clarity, perspective, or even an apology when appropriate. 
Forgive 
Hurt, caused with or without malice, can bring out the worst in us. My daughter had to make peace with the knowledge that I had not intended to hurt her so she could release her pain. I had to let go of my irritation with the anger she had been displaying. We both needed to forgive each other. 
I was reminded of all this and more from my daughter. I thanked her for her courage. I encouraged her to continue to confront the things that hurt her. I forgave her for the behavior that had come out of that experience.  
I encourage you to do the same.